Our Business Hours for a Car Wash and Vacuum in Florence, AL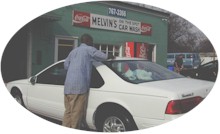 Keep your car neat and presentable by having it regularly cleaned and vacuumed. Dirt left unwashed will negatively impact the health of passengers and will also cause damage to your car. Visit Melvin's On The Spot Car Wash soon to have your vehicle cleaned thoroughly. Our car wash and vacuum availability in Florence, AL, is from 9:00 a.m. to 5:00 p.m., Monday to Saturday. We are closed on Sundays for church and rest.


Clean Carpet and Seats
The constant presence of dirt, debris, dust, and other particles can cause upholstery and other materials to wear down faster. Take care of your vehicle's interior and prevent unwanted wear and tear with help from our skilled team. We offer thorough carpet and seat wash service to help maintain the car's luster and extend its life.


Complete Car Detailing
Let us give you the satisfaction of a clean car interior with a professional finish through our complete car detailing. Our team will make your car's seats, carpets, and upholstery appear spotless and smell lovely—keeping your ride looking as good as new inside and outside. No matter the type of vehicle you drive, you can count on us to give it a good cleaning at an affordable price.


24-Hour Rain Guarantee
All of our car washes come with a 24-hour rain guarantee. You can return to our shop for a free rewash if it rains within 24 hours of your wash service. Although rain may wash away dirt, it has a slight amount of acid that can damage your car's paint and surfaces. After rainfall, be sure to have your vehicle washed using clean water.


Our Service Area
Driving a spotlessly clean car is an absolute pleasure. While you can wash your vehicle yourself, using a sponge and cleaning supplies alone won't make it shine like a brand-new car. Enjoy that fresh feeling when you get behind the wheel after relying on our crew for auto detailing services. Our team serves in the following areas:
* Florence, AL
* Sheffield, AL
* Muscle Shoals, AL
* Killen, AL

Schedule a Service
Call (256) 767-3366 today for more information and to schedule a car wash and vacuum service at our shop at 2221 Huntsville Road, Florence, AL. We also offer car carpet shampoo, odor removal, waxing, and interior and exterior cleaning. Our friendly staff will be happy to serve you or provide you with a quote.